Today we'll talk about the beauty of porcelain. And not the kind we love sipping tea from but the kind we could actually wear. Adorning our neck, our fingers, our ears, preciously sensitive jewelry made by Goutte de Terre from real, delicate Porcelain.
From its inception in 2009, Goutte de Terre was so much more than just a creative outlet! It was a pretext to gather round talents and creators, entertainers and free sprits in a Parisian art gallery. The shapes and creative ideas revolve around the Earth, just like the name suggests: 'Drop of Earth'. Entertainers and designers come together in the art gallery to listen to music, to exchange ideas and talk about their projects.
See more: Unique handmade jewelry for festivals & more!
Raphael Schaltegger's road to creation has been paved with adventures for he has started his first crafts while voyaging around the world, a passion now revolving around a steady center in Paris – the art gallery. 100% of the earnings from the sale of Goutte de Terre jewelry is donated to the 'Goutte de Terre' association which is trying to facilitate the access to potable water around the world.
See also: Whimsical miniature food jewelry from Petit Plat!
Each piece from the Goutte de Terre shop is crafted in porcelain which is then either painted with pure silver or gold or left to its own immaculate appearance. Rings and earrings, necklaces and bracelets alike they're all delicate and precious and must be handled with love and care. Just like water. A drop of water, a drop of porcelain. Clear and pure, simple and straightforward, Goutte de Terre jewelry pieces exude passion and respect for the Earth, for life! Would you wear these Porcelain jewelry?
See also: Wood and thread unique jewelry!
See also: Unique sustainable jewelry from Missmiss!
As all good things come in pairs, I need to make a mention about Lunaticart – another jewelry designer creating with passion and love. Berenice aka Lunaticart is Raphael Schaltegger (Goutte de Terre)'s wife. They met in their travels and decided to stick together and create together. Their story is beautiful, so are their jewelry!
Below you'll see some of her rings, earrings and bracelets – I'm certain you've stumbled upon some of them without knowing who makes them – especially the crown wedding rings! I hope you like them just as much as I did – you can see more from Berenice and her husband on their respective etsy shops: Lunaticart and Goutte de Terre.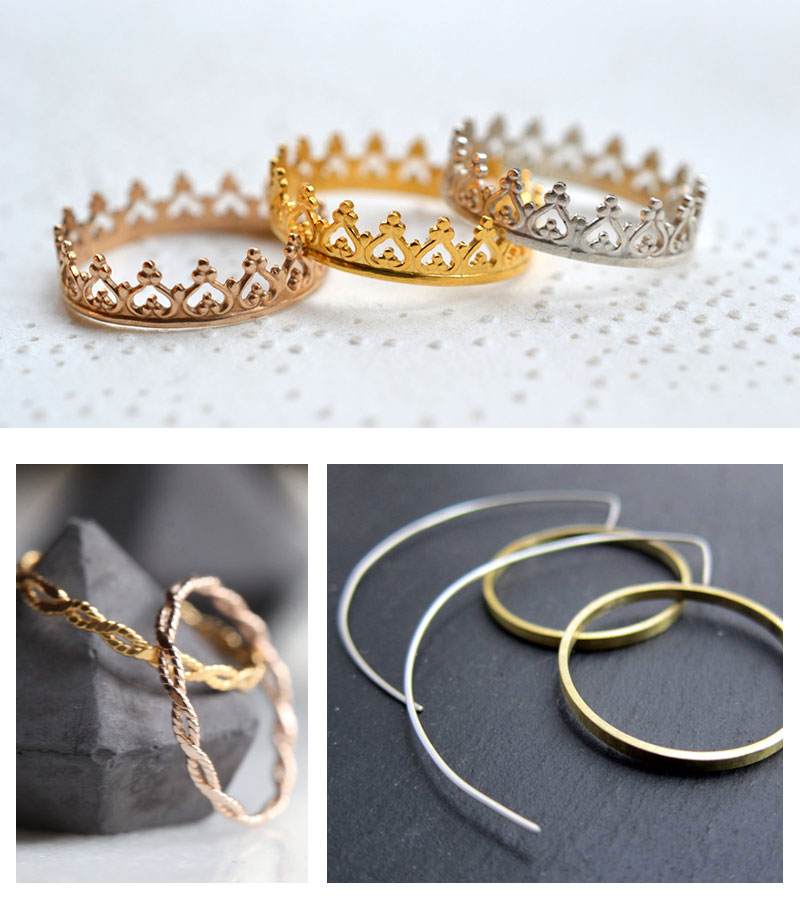 See also: Organic jewelry by Manaka!