First of all, let's get some things cleared up here – we all know who Gwen Stefani is (or at least that's the presumption I'm taking off from), but maybe not everyone's familiar with the "Harajuku" term meaning.
Harajuku (according to Wikipedia) has a geographical departure – it's an area between Shinjuku and Shibuya, Tokyo, Japan and came to be known because of its youth style and fashion, the Harajuku street style being promoted as "Fruits"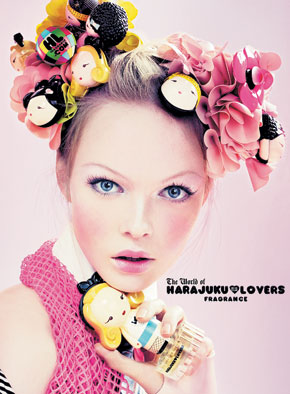 Gwen Stefani's clothes and accessories line have been strongly influenced by the Harajuku Girls style (a style she began showing off with her first solo album Love, Angel, Music, Baby).
Now when mostly at home due to her second pregnancy, she still has to keep her marketing self busy. She announced the Harajuku Lovers Fragrance line (for September).
Love is floral, Lil'Angel is fruity floral, Music is delicate floral, Baby is powdery musk, G is modern gourmand. So it's all about flowers and fruits. And Harajuku.
The scents come in $45 for 30ml and $25 for 10ml (plus an upcoming version of the coffret with the solid perfume for $60).
Aggressively distributed worldwide (2,200 stores in US, 10,000 stores worldwide), harshly planned marketing campaign (tv-spots, ad prints, web site) it will surely become an instant hit. It gives Christmas a Harajuku air.
Without necessarily embracing this addition to the L.A.M.B scene, do you look at it as a success?
What makes Gwen – based products more interesting than other celeb–designed–lines? (via wwd)
You can buy yours here.